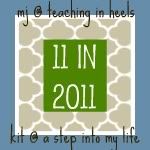 Today is the last day of the 11 in 2011 challenge. That means I finished my first Blogging challenge! I had so much fun with this and I hope this is just one of many more I'll do.
Now on to todays topic...
Day 11: What I am Looking Forward to in 2011
Mac & I are going to TRY and take a drive down to Florida. We want to stop at different places along the way. It sounds like SOOO much fun & I'm hoping we can pull it off. I'm sure I'll talk more about this as we continue to figure things out.
My 26th Birthday (February 15th by the way for anyone interested ;)
Since yesterday's post about girls night out came up I've decided that a) it's been WAY too long since a real night out with the girlies b) it's been too long since I've been at Male Revue c) I've never really gone out and really celebrated my birthday (minus my 21st when I decided to bar hop til 4am with the BFF) that for my birthday I'm going to Male Revue. I sent out the invitation via facebook yesterday. So far it's me and 2 maybe 3 other people. That's okay, small groups are better sometimes. So February 12th me, my bff and a friend of the fiance will be going to see some good looking men dance for us. I'm excited.
6th Anniversary
It's a weird number to celebrate but for our 5th anniversary last year we didn't do anything. Mac was laidoff at the time and money wasn't something we really had to spend, so he's working this year and I'd like to celebrate it (I'm thinking that our trip to Florida would probably be our anniversary gift/trip since it'll cost quite a bit...all the more reason we HAVE to go!)
Mac turns 30!! I have til June to think about what to do for his birthday.
Some other things I look forward to:
Possibly moving into a bigger place (with my mom and Mac)
Talks about when we're going to TRY and have a baby
Starting school again
Getting a drivers license
Can't wait to see what everyone is looking forward to :)