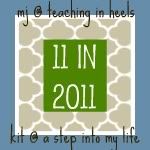 Day 1: New Year Resolutions
Day 2: Favorite Holiday Memory
Day 3: Favorite Work-Out Tips
Day 4: Best Leftover Recipe
Day 5: Places You Hope to go this Year
Day 6: Best Organization Tricks
Day 7: Favorite Memory of 2010
Day 8: Favorite Healthy Snacks
Day 9: Favorite Things to Do on a Cold Winter Day
Day 10: Favorite Girls Night Out Events
Day 11: What are you Looking Forward to in 2011
So since I'm new & trying to get some readers, I figured I'd do the 11 in 2011 even though we're now 7 days in.. (Better late than never?)
Day 1 (New Years Resolutions)
Go back to school

Study for & get my permit.

Give up soda

Go back to the gym and go at least 4x a week.

Write more..even if it's just to post what I did that day. It's good for memories

Be more positive in life.

Start seriously talking to Mac about kids. We know we want them & we want them soon, but I'm a worrier, so I need to know we'd be okay when we have a baby (money wise...I know you're never really ready, but I refuse to be a struggling parent).
Day 2 (Favorite Holiday Memory):
Before my parents got divorced...Christmas morning we'd get up, dad would set up the video camera so we could record Christmas morning & send it to my grandparents in Florida. We'd open our presents, try on our new clothes, I'd play with my toys. There would be Christmas music playing on the radio. After presents were done, mom & dad would put together breakfast for us. In the afternoon we'd go to my mom's SIL and Brother's house to meet up with them, and grandma & grandpa (who lived downstairs from them), do presents and have dinner. Afterward we'd go to

my other Aunt's house for desert and presents. Holidays definitely aren't the same anymore. I'm hoping my love of holidays will come back when we have kids...
Day 3 (Favorite Workout tip)
My favorite tip would have to be forget the scale and focus on the inches lost. When I was going to the gym 4x a week and had a trainer my weight didn't always change but the inches came off.
Day 4 (Best Leftover Recipe)
Ingredients:
1 1/2 cups frozen peas and carrots, thawed under cold water

5 tablespoons butter

5 tablespoons all-purpose flour

1/4 cup chopped onion

1/2 teaspoon salt

1/4 teaspoon pepper

1 3/4 cups turkey or chicken broth

2/3 cup milk

2 1/2 to 3 cups diced cooked turkey or chicken

Pastry for 9-inch two crust pie, prepared or purchased
Preparation:
Drain peas and carrots; set aside. Heat butter in 2-quart saucepan over low heat until melted. Stir in flour, onion, salt and pepper. Cook, stirring constantly, until mixture is bubbly; remove from heat then stir in broth and milk. Place back on heat; heat to boiling, stirring constantly. Boil and stir 1 minute. Stir in turkey and vegetables. Prepare pastry. Roll 2/3 of the pastry into a 13-inch square; ease into ungreased 9-inch square pan. Pour turkey mixture into the pastry-lined pan. Roll remaining pastry into 11-inch square; cut out designs with small cookie cutter. Place square over filling; turn edges under and crimp. Bake in 425° oven until golden brown, about 35 min.
Serves 6.
Day 5 (Places you hope to go this year):
Mac just found out from work the other day that he gets two weeks vacation. In our 5 (almost 6) years together, we've never gone on a real vacation. Our plan is to drive to Florida while stopping at different places on our way. We'll take 2 days by car to get there, stay in Florida for 3 days, maybe visit some family members while we're there and then drive home stopping at different places on the way home. I've never done a road trip in my 25 years of life so I'm SUPER excited..I just hope we go through with it.
Day 6 (Best Organization Tip):
Ha! I have NONE for this. I'm probably one the most disorganized person you'll ever meet. I'm looking forward to looking at other people's post on this.
Day 7 (Favorite memory of 2010):
Probably finding out that Mac had gotten the job and my 2 trips to Ft Lauderdale Fl with my dad.
I'm all caught up now..that wasn't as hard as I thought it would be. I look forward to doing the rest :o)